The Africa Centre for HIV/Aids Management, which falls under the Economic & Management Sciences (EMS) faculty, will host a community day in commemoration of World Aids Day (WAD) on 1 December. The purpose is to raise awareness and ignite a call to action against HIV stigma, gender-based violence and child abuse.
This ties in with the annual 16 Days of Activism for No Violence Against Women and Children campaign in South Africa. It is also in line with this year's global WAD theme, "Equalise", which highlights the importance of addressing inequalities such as the continued disproportionate number of HIV infections in women versus men – 64% of the people currently living with HIV in South Africa are women.
While extensive progress has been made in controlling the HIV/Aids pandemic, progress has stalled in recent years. In 2021, for example, there were 1,5 million new HIV infections globally – a million infections more than the 2020 target of 500 000. This is a significant gap that emphasises why creating awareness of and managing HIV and Aids is still of critical importance.
A community focus
As with tackling any global-scale challenge, it's best to start at home, which is why the team at the Africa Centre is focusing on the local community in its WAD commemoration, which will involve using the arts to create awareness. Fellow Stellenbosch University staff and their families, representatives from community-based organisations, as well as children and educators from schools in Stellenbosch and surrounding areas are invited. Attendees will have the honour of listening to the award-winning Prof Azwihangwisi Mavhandu-Mudzusi from Unisa, who will share her expert insights on the topic of "Zero HIV infection: Mission impossible with current stigma and discrimination against LGBTQI+ individuals and people living with HIV".
To further encourage the SU community to make this WAD about family and friends, Dr Munya Saruchera (Senior Lecturer and Acting Director at the Africa Centre), Prof Ingrid Woolard (EMS Dean), Prof Nico Koopman (Deputy Vice-Chancellor for Social Impact, Transformation & Personnel) and Dr Leslie van Rooi (Senior Director for Social Impact and Transformation) will take public HIV tests on the day. The HIV testing will also be available to other attendees, as well as testing for TB, diabetes and substance abuse.
Managing HIV goes far beyond medical treatment
In its day-to-day operations, the Africa Centre contributes to the fight against the pandemic through academic programmes and research on how to manage HIV and Aids in the world of work. The centre offers three postgraduate programmes (a postgraduate diploma, an MPhil and a PhD) that provide a multidisciplinary lens and valuable management science insights. The centre has attracted students from several African countries and even a few from other continents.
Saruchera explains why these programmes are vital to combatting the pandemic: "HIV and Aids are not just about treatment and physical health; it is about everyday humanity, dignity and equality. Issues relating to, among others, stigma, gender imbalances, sexuality and justice are still rife in the world of work and our communities."
Students acquire valuable critical analysis and evaluation skills and gain deeper insights into issues such as the legal aspects of employing people living with HIV, the socioeconomic impacts of HIV, migration and its link with poverty and HIV, HIV/Aids policy making and programme design and evaluation, as well as social responsibility. These programmes are for people from any industry, not only the medical field.
"Past students have included HR managers, church ministers, teachers, administrators and directors," says Saruchera. "Whatever their role and responsibilities in their organisation, students can apply the skills they acquire to make an impact. They also gain access to a network of people from different professions, sectors and countries via their classmates."
Importantly, the skills are not relevant to HIV/Aids only – they can be applied in any context requiring strategic HR management and organisational efficiency during a crisis, such as Covid-19.
Speaking of the Covid-19 pandemic, similar to the many medical treatments, routine check-ups and preventative vaccines that came to a halt during Covid-19, the rollout of HIV and Aids programmes and access to antiretroviral therapy were also negatively affected. The socioeconomic impact of the Covid-19 pandemic, such as increased unemployment and lack of access to food for those on treatment, aggravated this even further.
Globally, we are far from reaching HIV and Aids targets
The decrease of 31% in new HIV infections since 2010 may seem impressive – and of course every step forward is a step in the right direction. However, it's not even close to the 75% target for 2020 set by the United Nations General Assembly.
In December 2020, UNAIDS released new ambitious targets for 2025, in short the 95-95-95 targets. The goal is to have 95% of all people living with HIV to know their status, 95% of everyone diagnosed with HIV infection to receive antiretroviral therapy (ART) and 95% of all people on ART to have viral suppression. Viral suppression helps to keep people healthy and prevents transmission. UN member states adopted the targets in June 2021 and achieving them will require focused action on all fronts, from reducing new infections to bridging inequalities in treatment coverage and outcomes.
As many of these interventions will be linked to the world of work, the work done by the Africa Centre remains of critical importance. Says Saruchera: "Issues like stigma and discrimination and the resultant mental health challenges are not cured by conventional medical treatment, which is why there is reason to continue caring about HIV and Aids."
Adopting SU's new visual identity perfectly aligned to the Africa Centre's vision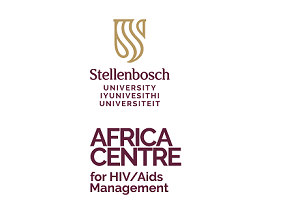 The new SU logo introduced in 2021 marked the start of a new era of continued world-class academics and the aspiration to be Africa's leading research-intensive university by 2040. In addition, the logo elements represent the warmth and vibrancy of the African continent and the array of cultures and languages it embodies.
The directive to align the visual identities of internal faculties and departments with the new SU logo was a natural fit for the Africa Centre. The centre has welcomed students from all across sub-Saharan Africa (and further abroad) over the years. In addition, conducting and sharing research on managing HIV and Aids effectively in the world of work and communities is one of the pillars of the centre's work and its objectives to support, educate and advocate. The Africa Centre is proud to have the distinctive maroon that sets SU apart from its competitors in its name and to associate with the commitment to research excellence.