A delegation from St Stithians College, one of South Africa's most prestigious schools from Johannesburg, visited Stellenbosch University in July for a working session on finding green energy solutions for the school's 105 ha campus. Innovus-spinout company GreenX Engineering, which has been instrumental in helping schools in the Western Cape save on their energy bills while providing energy solutions was part of the SU delegation.
Dr. Jason Samuels, managing director of GreenX, said they have been in discussions with St Stithians for some time now working together to find energy-saving solutions. "The College has identified a piece of land on their campus suitable for an alternative energy solution that is able to meet the school's 3GWh demand ."
Thando Bili, Head of Operations of St Stithians College, said they are excited to collaborate with Stellenbosch University on ways to be less reliant on the Eskom grid and become more sustainable. "We have as many as 8 000 people on campus daily, and this number can grow to as many as 60 000 when we host a festival. It is crucial that we find sustainable energy solutions to also augment our water-saving solutions for our college," says Bili. He says the College aims to be completely self-sustainable by 2030.
This will not be the first project GreenX worked on with the College. Following an electricity energy and spatial analysis audit, the GreenX team issued an energy performance certificate (EPC) for one part of the college. This is the first time GreenX awarded an EPC to a South African School.. The first of the Colleges' buildings to get an EPC was the Girls' College and Girls' prep sections. They received a B-rating for energy consumption with a 33 kWh/m2.
Last year, GreenX Engineerings' initiatives helped equip Cloetesville Primary School, in Stellenbosch, with energy-saving technology, ensuring that it became the first school in South Africa to receive an energy performance certificate (EPC). The school received an A-rating for the electrical consumption of the system, with 17 kWh/m2.
"The achievement of the first EPC cements St Stithians commitment to energy efficient solutions and is aligned with the long-term sustainability plan of our College," said Bili.
According to Dr. Samuels, more energy management and energy efficiency projects are in the pipeline for St Stithians and GreenX.
In the coming months, SU, GreenX, and St Stithians (together with their engineering partner, Madonse Consulting Engineers) will work together on creating a feasible solution for the school, which could include a cost-saving solution for their energy systems such as a potential solar PV and a loadshedding solution that integrates diesel generators and an energy storage system, for instance, batteries.
"Our journey of establishing a PV plant for the College is central to the core business of the day: ensuring the continuity of Teaching and Learning," said Bili.
Dr. Samuels says he hopes this work is the start of a fantastic energy journey for the College as they pioneer being energy resilient.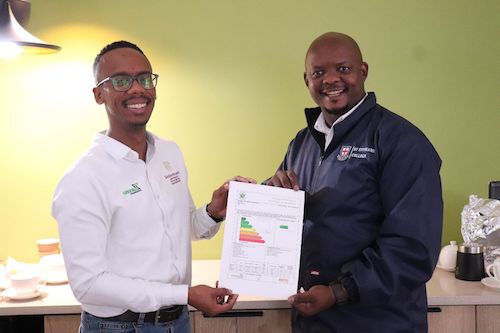 Caption for photo
In the photo, Thando Bili, Head of Operations of St Stithians College (right), receives the EPC certificate from Jason Samuels, managing director of GreenX Engineering. ​
Media inquiries
Petro Mostert
M 082 334 6193